Roberta and Germano love to cook together, they are my friend Damiano's parents, who in the past has shared with us one of his fantastic recipes.
They have a lot of experience cooking and they have perfected their recipes over the years, which is something very important when you share them with other people.
Every time I meet them they are cooking wonderful food for their whole family. I love Roberta's vegetarian meatball recipe, which tasted so great when she gave me some to try. Her vegetarian meatballs are famous in her family and she inspired me to try this recipe myself. The first time round it was a total disaster and the second time proved slightly better but not as tasty as Roberta's. That is the thing I love about cooking, you can always improve and over the summer months my family really did come to love the vegetarian meatballs that I cooked.
Let's go back to our original recipe le sarde in saor.
When Roberta and Germano are talking together they speak in dialect which gives more saor (in dialect this means flavor) to the sarde (sardine). This is a typical dish from Venice, especially in the past when it was the fishermean's dish as it could last outside the fridge for days. It is rich in Vitamin C, which was very important for avoiding scurvy, a disease that used to affect fishermaen and sailors.
The process for preparing sarde in saor takes a little while and after you have done it, it is a question of patience as you prepare it 3 or 4 days before you can eat it but I assure you that the taste is absolutely amazing and it is definitely worth the wait.
Ingredients:
2kg white onions
1 kg cleaned sardines
salt
oil
½ glass of white wine vinegar
100gr pine nuts
100gr raisins
Method
You start by softening the raisins in warm water or white wine (which gives more flavor, depending on your taste) and leave them until you need them (for about an hour).
Cut the onions in thin slices. I have Roberta's secret for not crying while you cut onions and it is not about putting half onion on your head or trying to keep your eyes wide open with an horrified expression. You just need to have a glass of water near you for immersing the knife you are cutting with once in a while…you won't believe it but your eyes won't water at all, not a single tear. Do you have other tricks for onion tears? I really would like to know them. Roberta's one really did work, try it!
Put the oil and the onions in a pan, all cold, add a pinch of salt, cover and leave a low flame under the pan.
At the same time wash the sardines and put them on a cutting board so that they can dry well, coat the sardines in flour and fry in peanut or sunflower oil.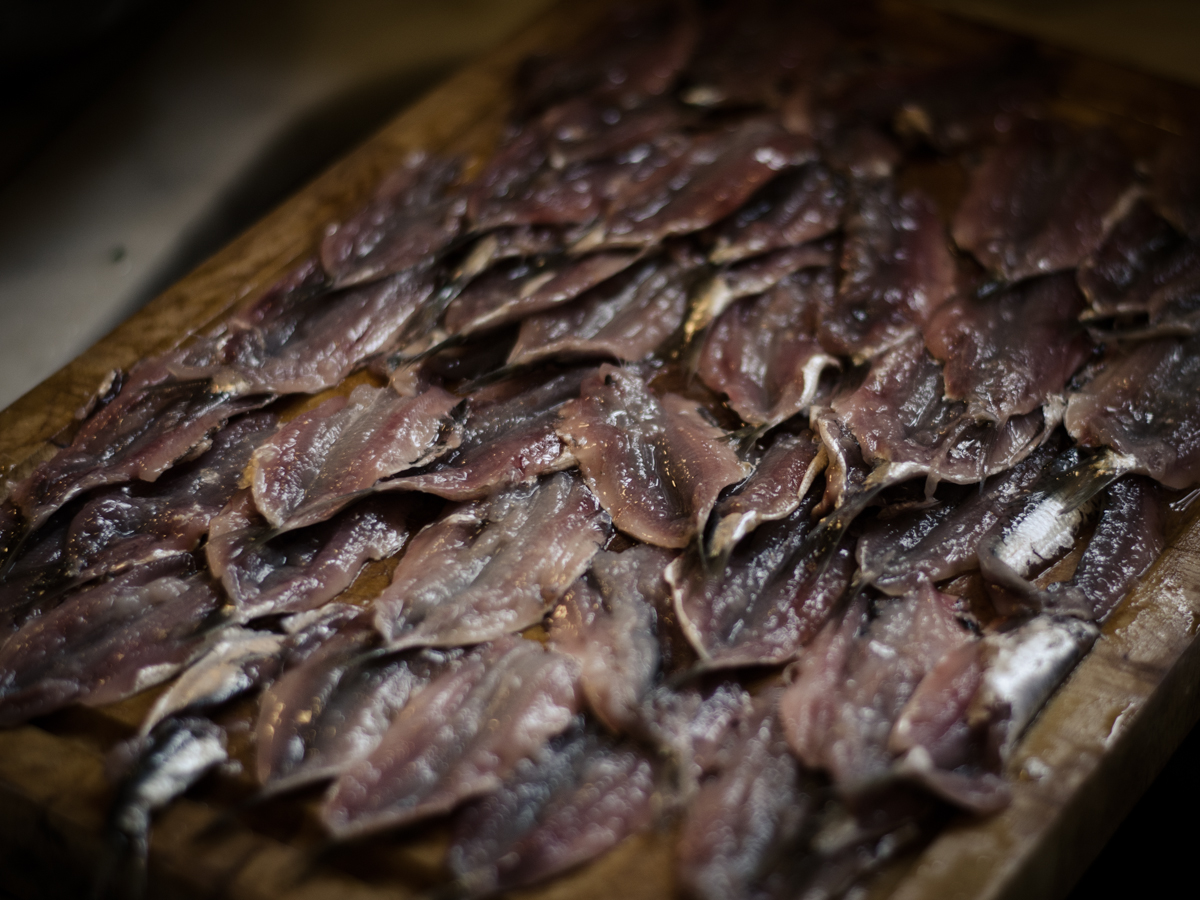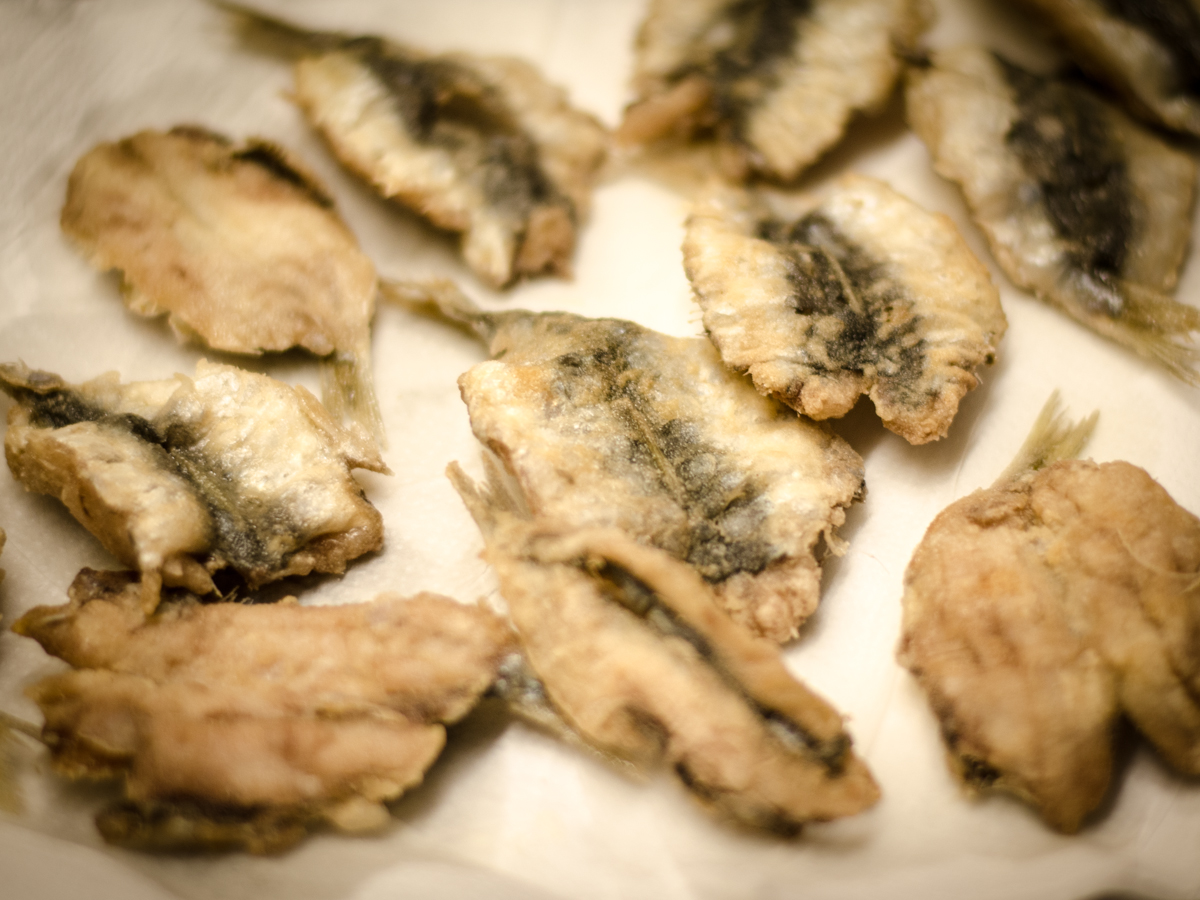 When the onions are a kind of rose colour add the vinegar, raisins and pine nuts. Let it cook for about 5 minutes, until the vinegar has evaporated and turn the heat off.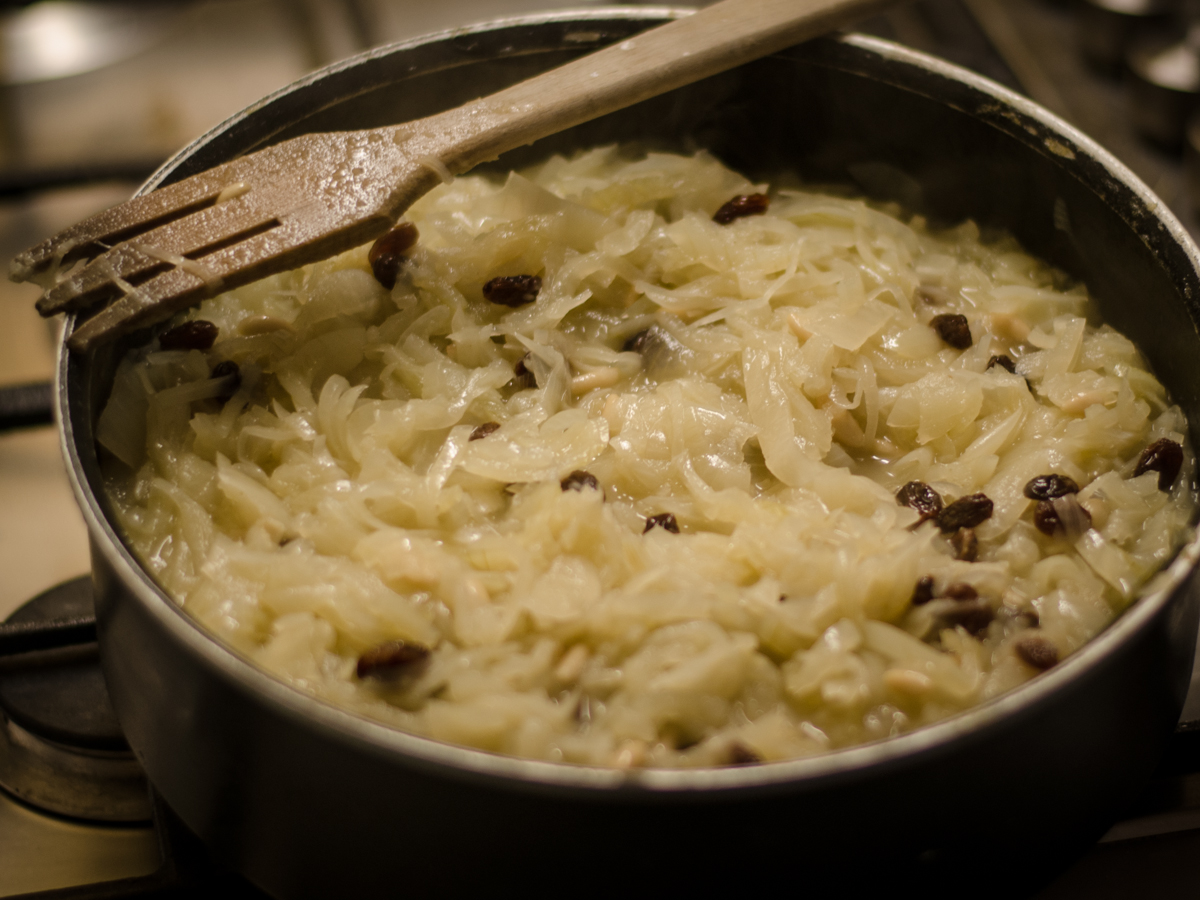 Let it cool down a bit and start to layer everything in a bowl so that you can easily cover and put in the fridge: onions, sardines, onions… and so on until you finish the ingredients.
As I mentioned for this recipe you need to be patient as you need to wait a few days (2,3,4..) before you can taste it. Actually the taste gets better if you wait more and they can last even for 20 days in the fridge… though not in my fridge!